A Song of Ice and Fire series have been extremely popular since they were made into a HBO tv show, Game of Thrones. Which is amazing you need to see it if you haven't yet. I have read the first two books in the so far five book series. So here are the reviews.
A Game of Thrones (Book 1) by George R. R. Martin
About: Long ago, in a time forgotten, a preternatural event threw the seasons out of balance. In a land where summers can last decades and winters a lifetime, trouble is brewing. The cold is returning, and in the frozen wastes to the north of Winterfell, sinister and supernatural forces are massing beyond the kingdom's protective Wall. At the center of the conflict lie the Starks of Winterfell, a family as harsh and unyielding as the land they were born to. Sweeping from a land of brutal cold to a distant summertime kingdom of epicurean plenty, here is a tale of lords and ladies, soldiers and sorcerers, assassins and bastards, who come together in a time of grim omens.
Here an enigmatic band of warriors bear swords of no human metal; a tribe of fierce wildlings carry men off into madness; a cruel young dragon prince barters his sister to win back his throne; and a determined woman undertakes the most treacherous of journeys. Amid plots and counterplots, tragedy and betrayal, victory and terror, the fate of the Starks, their allies, and their enemies hangs perilously in the balance, as each endeavors to win that deadliest of conflicts: the game of thrones.
(from amazon.com)
Review: I read this book after I had watched the HBO version, which luckily is almost exactly the same. It was a bit hard to follow but since I had faces and names to the characters it made watching the show, and reading the book, really easy. Martin's writing is amazing. Every sentence just oozes off the pages with descriptive awesomeness. I feel like i got to know the characters better as well. The book starts off beyond The Wall and takes you all around The North and South, following different characters, their stories and the ways they became king or want to be king. The book has a Lord of the Rings meets medieval type of feel. With a very realistic yet mystical style. Out of all the many characters, Arya is still my favourite. She is amazing in the books and pretty cool in the tv show. There is a lot for everyone if these books and I just absolutely love everything about them.
A Clash of Kings (Book 2) by George R. R. Martin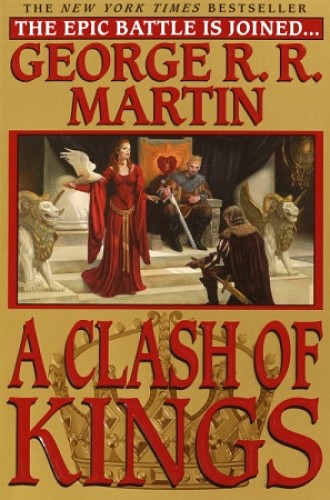 About:
In this thrilling sequel to
A Game of Thrones,
George R. R. Martin has created a work of unsurpassed vision, power, and imagination.
A Clash of Kings
transports us to a world of revelry and revenge, wizardry and warfare unlike any we have ever experienced.
A comet the color of blood and flame cuts across the sky. And from the ancient citadel of Dragonstone to the forbidding shores of Winterfell, chaos reigns. Six factions struggle for control of a divided land and the Iron Throne of the Seven Kingdoms, preparing to stake their claims through tempest, turmoil, and war. It is a tale in which brother plots against brother and the dead rise to walk in the night. Here a princess masquerades as an orphan boy; a knight of the mind prepares a poison for a treacherous sorceress; and wild men descend from the Mountains of the Moon to ravage the countryside. Against a backdrop of incest and fratricide, alchemy and murder, victory may go to the men and women possessed of the coldest steel . . . and the coldest hearts. For when kings clash, the whole land trembles.
(from amazon.com)
Review: The 'About' pretty much says it all. Its the second book and just as amazing. Everyone is fighting for the crown after King Robert has died. Both the Baratheon brothers are wanting to be King, along with Joffrey, Robert's 'son' (actually Jamie Lanister's son with his sister...You should just read the books, they are amazing). A lot of stuff happens, people die, people fight, make love, are awesome, basically you can like someone good or bad, there really isn't a line. All the characters grow a lot and the plot thickens. If you've seen the HBO show then you'll find out a few things that happen in book 3 (which I am reading now). Basically if you've seen the show, or not, you should read these amazing, fantastical books.